Markets And Your Investments
Nov 25, 2020.
The equity markets have continued their upward journey further into uncharted waters and, for the first time in the history FPI buying crossed Rs 50,000/- crores in a single month. As mentioned earlier this rally is driven purely by liquidity and low interest rates. The purchases do not seem to have any co relation with the fundamentals. While there is no euphoria, there is very much a sense of nervousness among domestic investors, as suggested from their net sales figures.
The chart below says a lot about the high and inflated valuations currently.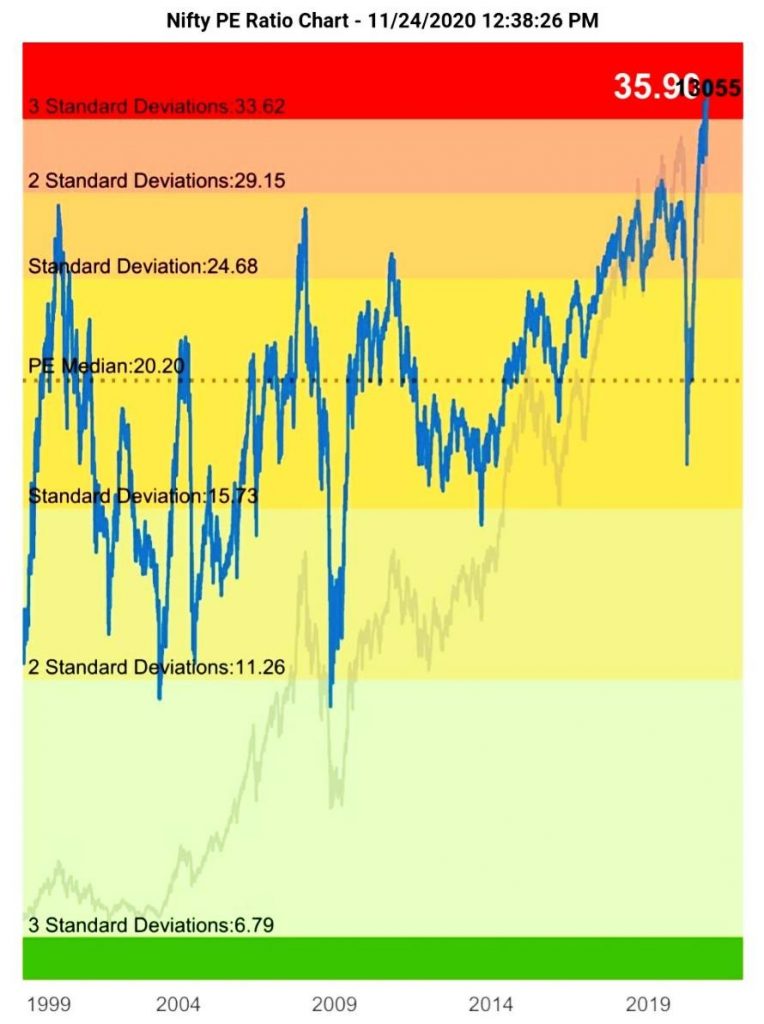 Nifty P/E : 35.90 ( Double of 23rd March low )
It must be remembered that FII money is hot money. If the dollar appreciates even by 4% to 5%, it will trigger a pull-out from emerging markets and majorly from India. There is a high probability of the March 2020 carnage repeating. Another factor that could trigger a fall will be inflation due to high asset prices and reversal of interest rates.
Some analysts are betting on the economic recovery initiated by the covid -19 vaccine discovery and some other factors. Even if it happens the current market levels seem to have priced in that factor. Remember markets are forward looking. So even if there is no major crash, the upside to the equities seems to be capped. The market cap to GDP ratio recently touched 85%.It will be interesting to see what returns were generated over three years when this ratio was at different levels in the past.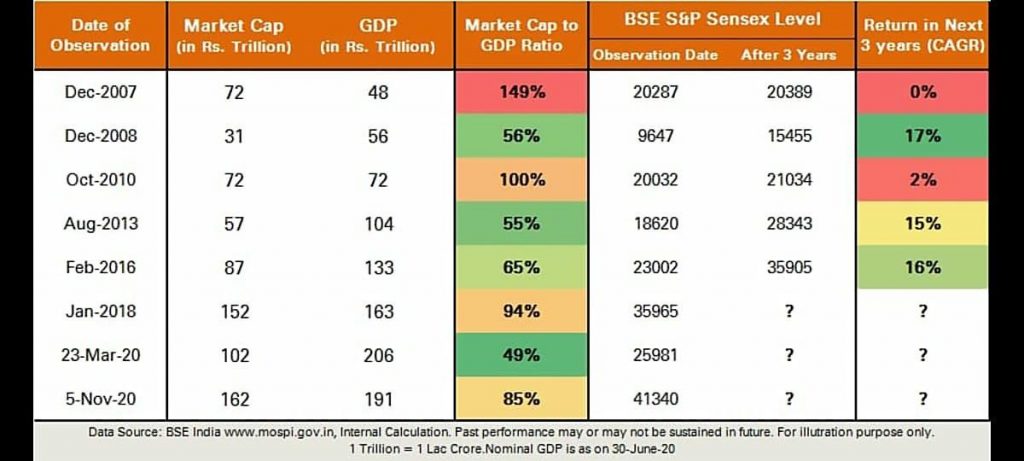 ( MARKET CAP TO GDP CHART )
Till then uncertainty, news feeds will test investor's patience and rationality.
Selection of the asset class and its proportion is a very individualistic decision. A very general solution during such times is to follow quants, asset allocation models (depending on one's conviction of the formulae), so that one is in the right asset class and be protected from down side movements. Down side protection is a significant factor in long term wealth creation.
Indications about a reversal will come from Interest rate charts and that will also be an indication to move out of pure debt funds back to equity in the proportion depending on one's time horizon and risk profile.